REGGAE DANCE COMPETITION GOES GLOBAL!
 Members of the National Dance Theatre Company in full flight during their performance at the launch. (PHOTOS: LIONEL ROOKWOOD)—
WHILE the Jamaica Cultural Development Commission (JCDC) is deep into its organisation of this year's staging of the World Reggae Dance Championships with the finals set for August 5, plans are being discussed for the 2016 edition of the event.
The commission is promising that next year's staging will be a world exposé of reggae with different regions of the world being offered franchises to stage their own finals with the winners all meeting in Kingston for the verdict.
According to Christopher Samuda, vice chairman of the JCDC board of commissioners, the event in 2016 will take on a life of its own.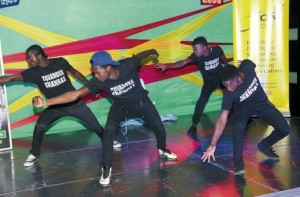 "The championship will truly become an international dance festival without losing the root which is reggae," he stated at the media launch of the championships held in New Kingston on Tuesday night.
He further explained that next year will see the introduction of a number of new categories including jazz, ballet and ska, all with a predominantly reggae vocabulary.
"Dance tourism is what we are looking to. This is a way to add to our country's cultural offering," Samuda added.
Meanwhile, this year's event will see the JCDC staging a number of workshops across the island to improve the standard of the Jamaican entrants from April 17-19. There will also be three regional eliminations in Ocho Rios, St Elizabeth and St Andrew on June 5, 12 and 19 respectively to select the finalists.
To assist with offsetting the cost of this year's event, Wray & Nephew was on hand to present their sponsorship cheque for $1 million.
–By Richard Johnson